By Charlie Balch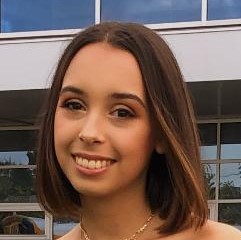 This year's Bull Run Civil War Round Table $2,000 Scholarship is being awarded to a graduating senior from Thomas Edison High School – Isabelle Anderson. Isabelle has demonstrated a passion for American history, has been active in a range of extracurricular activities, has an exceptional grade point average, and demonstrates outstanding personal and leadership skills. Isabelle is the daughter of Angus and Melissa Anderson.
Isabelle demonstrated a range of interests in American and Civil War history including two research projects for the Scholarship on Cedar Creek and Fairfax Station; she is an avid Civil War reader and has visited several historic sites; she is particularly interested in the Reconstruction period. Isabelle has received "A's" in all her History courses.
Isabelle's chances of succeeding in college at Amherst appear to be particularly good having been accepted at multiple schools. She has the highest-grade point average of any candidate to date – 4.487. She received an extraordinarily positive History teacher recommendation.
Isabelle has been active in theatre, Acapella, INTERACT Service Club, as well as being a winner of science fairs, and an officer of several clubs and societies.
Her essay, written for the Scholarship, was entitled "Fairfax Station in the Civil War". She covered the action and strategy of both sides regarding the use of the station and railroad. Thirteen documents are included in the bibliography including multiple primary sources. It was a well-written submission.
Isabelle is an effective public speaker, both confident and knowledgeable. She seems quite personable. The Scholarship Committee feels Isabelle is an excellent representative for the Round Table.
************
This is the ninth year that the Bull Run CWRT has given a scholarship. The first winner in 2012 was Taylor McConnell from West Springfield H.S. Other winners since then were Caroline Howard from Osbourn Park H.S.; Brook Roberts from Robinson H.S.; Aaron Pirnat from Herndon H.S.; Alexander Hughes from Osbourn H.S.; Joseph LaVigne from Seton H.S.; Jack Tatum from Oakton H.S.; and Jacob Fajer from Westfield H.S.
All applicants submit a grade transcript, description of extra-curricular activities, an essay, a 'selfie' taken at a local historical sign, and an adult recommendation. The top candidates are interviewed before the Scholarship Committee chooses a winner. Members of the Scholarship Committee are Charlie Balch, Chairman; Brian McEnany and Mark Knowles.